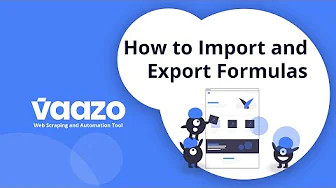 981 views
|
0:48
|
All levels
How to Import and Export Formulas in Vaazo
We have made an option to export and import formulas so that our users could share formulas with each other!
First, click on the formula you want to export. Go to the Details tab and find the button called "download" at the bottom of the page. It will download the formula as a JSON document.
When you are ready to import new formula open the "Formulas" panel at the top of the page. Click on the "+" button to add new formula and choose "Import".
You can open the JSON file in the text editor, copy and paste the content in the given window or locate the file on your computer and upload it without even having to open it.
Press the button "Import formula".
No files added yet
No related questions