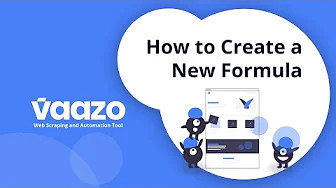 1229 views
|
1:23
|
All levels
How to Create a New Formula in Vaazo
In this video, we will create a new formula.
Go to "options", "More tools" and open "Developer tools" or you can also do that with the shortcut keys.
Then you can click on the Vaazo tab. If the developer window is horizontal, change it to side mode. It's easier to use Vaazo like this. Click on the "+" icon.
And you can create a new formula. Or if you already have a formula file, you can import it.
But let's get back to the formula creation process from the scratch. Type a new title.
We are not going to change the "run limit". We will get back to it later in another video.
Here you can type in a URL link to create a formula with the element that will open up a web page. Click create.
So, as you can see, a new formula has been created. Once we open it up, there is already an element that will open the URL link.
Now we can launch the formula by clicking on this button. For easier access, you can launch a formula from the pop-up window by clicking on the Vaazo icon and click the "run" button for a specific formula.
No files added yet
No related questions